Space pods
Jump to navigation
Jump to search

A space pod is a single-person vehicle that can fly through space, as though it were powered by a jetpack.
Building
Materials
To build a pod, you may need the following, uranium and plasma only required if a second space pod is being built:
Requires
100~ x

Metal


10 x

Rods
25 x

Glass
17 x

Plasma Sheets
1 x

Uranium Sheet
1 x

Cable Coil
1 x

Space Pod Mainboard
1 x

Space Pod Core
1 x

Space Pod Armor
1 x

Wrench
1 x

Screwdriver
1 x

Welder
1 x

Wirecutters

Space Pod Construction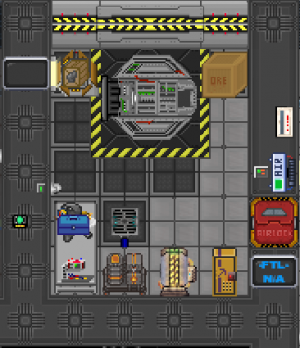 Throw some glass and metal into the fabricator, queue up the four space pod frames and let it begin building.
After they're all complete, align them, in four squares to form a box shape until symmetry is formed.
If you did it right, it should look rather like an octagon.
Use a wrench to secure the bolts of each frame piece down.
Now, have your fabricator begin fabricating the Space Pod Armor (if it is not already in the workshop)
Use a stack of 10 rods on one of the machine frames to create the pod frame.
Wire the pod frame.
Adjust the wiring with a screwdriver.
Install the Space Pod Mainboard.
Screwdriver to secure it.
Install the Space Pod Core.
Wrench it into place.
Install a stack of metal for the pressure bulkhead.
Wrench it to secure it.
Weld it.
Pick up the Space Pod Armor, and jam it into your Space Pod.
Wrench it.
Weld it to complete the space pod.
You've now completed the first real step to getting lost in exploring the beautiful void of space.
Oh god how do I get out of here
You first have to open the blast doors locking the pod within its hangar. Once open, just go full speed out into the vast emptiness of space after your pod is finished.
Maintaining your Space Pod
Space pods are similar to mecha, in that they use energy to power the craft.
Removing the battery
Eject the battery by smacking the pod with a crowbar.
Insert new battery.
The FTL13 Library
Starter
FTL-Specific
Medical
Engineering
Science
Security
Antagonists
Other
Development